Product Spotlight – Fix-it Catheter Retaining Strap
Catheter retaining devices are crucial to keep catheters secure and reduce the risk of  trauma. There are two types of catheter retaining device: adhesive or strap. These are also known as catheter stabilisation devices and g-straps. Some patients find adhesive devices uncomfortable or difficult to stick in place on the skin. The Fix-it Retaining Strap has two silicone lines on the reverse to ensure a secure and comfortable fit.
Why is catheter securement so important?
Proper securement is essential to prevent urethral trauma.  NICE Guidelines stipulate that, where an indwelling catheter is in use, a fixation device must also be in place. Lack of catheter securement can lead to damage and inflammation to the urethra and meatus. This could cause pain, discomfort and a high risk of infection for the patient¹.
How to secure a catheter?
Take a look at this Gif which shows just how easy catheter stabilisation can be.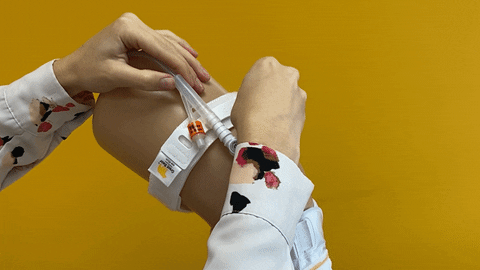 1) The Fix-it Strap can be used to secure the catheter around the bifurcation point or, for sheath users, around the tubing of the leg bag.
2) Before securing the catheter/tubing, place the strap around the leg or abdomen in the desired position, ensuring the silicone lines are facing the skin.
3) Pull the Fix-it tie away from the fabric strap.
4) Wrap the Fix-it tie back on itself around the catheter/tubing.
5) Push the end of the tie through the eyelet and pull gently around so the catheter/tubing is secured. Take care to not pull too tightly to ensure urine can still pass through .
6) Press the Velcro tab on the tie onto the fabric strap to keep the catheter/tubing in place.
Key Features of the Fix-it Retaining Strap
Secure velcro fastening which is simple to use.
Two silicone lines on the reverse ensure a secure fit and eliminate slippage.
Raised tab on the silicone Fix-it tie allows for a better grip for the individual.
Helps to prevent pulling on the catheter, which could lead to pain and urethral trauma.
Clear labelling to denote size and washing instructions.
Available in 4 lengths, which are able to be cut to size, to ensure a perfect fit for everyone.
Fix-it tips and tricks
Hygiene is of utmost importance when catheterised to prevent infection. Ensure you wash your hands thoroughly before and after handling your catheter, valve or drainage bags. If someone else is handling your leg bag or night bag, whether that is a relative, a carer or healthcare professional, they must wash and dry their hands and should wear a clean pair of gloves.
• Do not disconnect your leg bag or catheter valve when fitting the Fix-it Retaining Strap. Disconnecting the system increases your risk of infection.
• Change the Fix-it Retaining Strap when you change your drainage bag. If it becomes damaged or soiled you should change it sooner. The Fix-it Retaining Strap is machine washable but will last longer if you gently handwash.
• Elasticity and support provided by the Fix-it Retaining Strap will reduce over time due to washing and stretching. When this happens we recommend you order a replacement box.
• Do not allow your catheter or leg bag to hang down unsupported. Lack of catheter securement can cause urethral trauma and discomfort.
• You can continue to wear the Fix-it Retaining Strap in the bath or shower but ensure you replace it with a clean, dry one afterwards.
¹ 1 Fisher, J. (2010) "The importance of effective catheter securement" British Journal of Nursing, 19:8